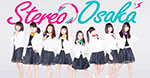 Stereo Osaka announced their withdrawal from Stereo Japan in the beginning of October.
The 8 members have been transferred to a new idol group named Edge Dub Monkeyz.
They have also left Bermuda Entertainment Japan label.
Stereo Japan was consisting of 2 local units from Osaka and Tokyo.
This withdrawal is due to disagreements between the persons in charge of the management about the future projects.
Edge Dub Monkeyz (EDM) were officially introduced during a live performance held at Osaka ATC Hall on October 11th.
On its side, the other unit Stereo Tokyo is going to release a new single titled Party People / Party Goes on October 28th.