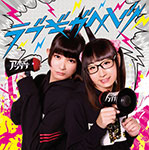 Suehiro Antenna's new single Love Giga Hertz (ラブギガヘルツ) will be released on April 23.
This is the 1st single from Suehiro Antenna.
It is the tie-up song for the Bemani game series.
The idol group consists of vocalist Nanahira and voice actress Arino Iku. Both members are from Akihabara.
Only one edition is available. The CD contains 2 songs, their instrumental versions and a remix by y0c1e.
Tracklist
Love Giga Hertz (ラブギガヘルツ)
Urusee Damare (うるせえ黙れ)
Love Giga Hertz (y0c1e's Remix) (ラブギガヘルツ)
Love Giga Hertz (ラブギガヘルツ) (Instrumental)
Urusee Damare (うるせえ黙れ) (Instrumental)