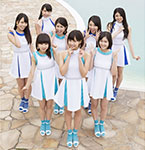 Sunmyu's new single Hatsuyuki no Symphony (初雪のシンフォニー) will be released on November 19.
This is the 7th major single from Sunmyu and the 4th original one from the idol group.
The MV and the track listing and the MV has been unveiled.
5 editions are available : a regular one (CD only) and 4 limited editions A, B, C, D (with a bonus DVD Type A and B). The tracklist of the regular edition is the same as the A and B limited editions. The coupling songs are different for the other versions. The Type C comes with a photobook.
Moreover, the idol group will hold the concert Sunmyu~ LIVE2015 SUN&YOU-2nd Anniversary-Junpaku Sengen on January 17, 2015.
Furthermore, Sunmyu's 1st album Mirai Chizu is on sale since August 2014.
Tracklist
CD (Regular Edition, Type A and B)

Hatsuyuki no Symphony (初雪のシンフォニー)
Aoi Kisetsu (青い季節)
Hatsuyuki no Symphony (Instrumental)
Aoi Kisetsu (Instrumental)
DVD (Type A)

Hatsuyuki no Symphony Music Video
2. Hatsuyuki no Symphony Music Video ~DANCE Version~
3. Hatsuyuki no Symphony Satsuei OFF SHOT
CD (Type C)

Hatsuyuki no Symphony (初雪のシンフォニー)
2. Saigo no LONELINESS (最後のLONELINESS)
3. Hatsuyuki no Symphony (Instrumental)
4. Saigo no LONELINESS (Instrumental)
CD (Type D)

Hatsuyuki no Symphony (初雪のシンフォニー)
2. Koi wa Panorama (恋はパノラマ)
3. Hatsuyuki no Symphony (Instrumental)
4. Koi wa Panorama (Instrumental)
Music Video (PV)