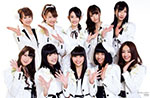 Super☆Girls 3rd Anniversary SP Idol Street Carnival Nippon Budokan ~Chouzetsu Shoujotachi no Chousen~ (Super☆Girls 生誕3周年記念SP アイドルストリートカーニバル 日本武道館 ~超絶少女たちの挑戦2013~) will be held on June 11.
The live will take place at Nippon Budokan, Tokyo.
Cheeky Parade, GEM, and Street-sei will perform at the concert in addition to Super☆Girls. All these groups are part of Idol Street.
Moreover, Super☆Girls' 7th single will be released on June 12.
Schedule
Date : 11/06/2013
Time : 17:00
Venue : Nippon Budokan, Tokyo
Line up :

Super☆Girls
Cheeky Parade
GEM
Idol Street Street-sei