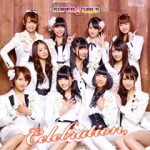 Super☆Girls' 3rd album Celebration will be released on February 20.
The limited editions come with a bonus DVD featuring music videos.
The limited edition Type A also contains making-of footage and a video from EveryBody Jump!! 2012 Final ~X'mas Special~ held at Nakano Sun Plaza on December 25.
The regular edition includes Super☆Girls' version of Asu e Step! (明日へStep!) as a bonus track.
The music video for album's title song Celebration has also been revealed.
Regular Edition
CD

Welcome to ♥ S☆G Show!! III
Akai Jounetsu (赤い情熱)
Dream Seeker
Renai Manifest (恋愛マニフェスト)
Muchuu Material (夢中マテリアル)
Exit
Junjou Cinderella (純情シンデレラ)
Rave Together!!!
Puri Puri♥Summer Kiss (プリプリ♥Summerキッス)
1,000,000☆Smile (1,000,000☆スマイル)
Yakusoku no Hanataba (約束の花束)
Celebration (Song by iDOL Street All Members)
Celebration -Chouzetsu Version- (-超絶バージョン-)
Asu e Step! (明日へStep!) (Super☆Girls Version)
Limited Edition Type A
CD

Welcome to ♥ S☆G Show!! III
Akai Jounetsu (赤い情熱)
Dream Seeker
Renai Manifest (恋愛マニフェスト)
Muchuu Material (夢中マテリアル)
Exit
Junjou Cinderella (純情シンデレラ)
Rave Together!!!
Puri Puri♥Summer Kiss (プリプリ♥Summerキッス)
1,000,000☆Smile (1,000,000☆スマイル)
Yakusoku no Hanataba (約束の花束)
Celebration (Song by iDOL Street All Members)
Celebration -Chouzetsu Version- (-超絶バージョン-)
DVD

1,000,000☆Smile (1,000,000☆スマイル) (Music Video)
1,000,000☆Smile (1,000,000☆スマイル) (Making-of)
Puri Puri♥Summer Kiss (プリプリ♥Summerキッス) (Music Video)
Puri Puri♥Summer Kiss (プリプリ♥Summerキッス) (Making-of)
Akai Jounetsu (赤い情熱) (Music Video)
Akai Jounetsu (赤い情熱) (Making-of)
Celebration (Music Video)
Celebration (Making-of)
Album Document (アルバムドキュメント)
EveryBody Jump!! 2012 Final ~X'mas Special~ at Nakano Sun Plaza 2012.12.25 no Naka kara Select Sareta Live Video (EveryBody Jump!! 2012 Final~X'mas special~@中野サンプラザホール 2012.12.25の中からセレクトされたライブ映像を収録。)
Limited Edition Type B
CD

Welcome to ♥ S☆G Show!! III
Akai Jounetsu (赤い情熱)
Dream Seeker
Renai Manifest (恋愛マニフェスト)
Muchuu Material (夢中マテリアル)
Exit
Junjou Cinderella (純情シンデレラ)
Rave Together!!!
Puri Puri♥Summer Kiss (プリプリ♥Summerキッス)
1,000,000☆Smile (1,000,000☆スマイル)
Yakusoku no Hanataba (約束の花束)
Celebration (Song by iDOL Street All Members)
Celebration -Chouzetsu Version- (-超絶バージョン-)
DVD

1,000,000☆Smile (1,000,000☆スマイル) (Music Video)
Puri Puri♥Summer Kiss (プリプリ♥Summerキッス) (Music Video)
Akai Jounetsu (赤い情熱) (Music Video)
Celebration (Music Video)
Asu e Step! (明日へStep!) (Song by iDOL Street All Members)
Super☆Girls – Celebration (MV)