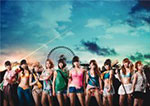 The drama Chouzetsu Zekkyou Land (超絶☆絶叫ランド) starring Super☆Girls will be released on DVD and Blu-ray on November 20.
In the story, the members of the idol group work as employees in an amusement park. After the impact of a meteorite, they are chased by monsters and try to survive.
The theme song of the drama, titled Survival, is performed by Super☆Girls.
The series was broadcast from July 27 to September 25, 2013 on CBC and TBS networks.
Trailer