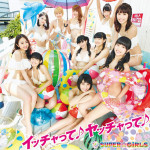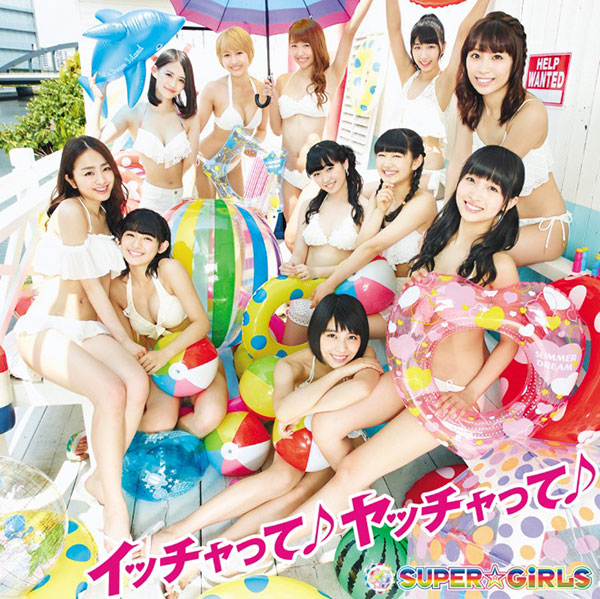 Super☆Girls' 13th single Icchatte Yacchatte (イッチャって♪ ヤッチャって♪) will be on sale on August 19.
The members of Super☆Girls continue the tradition by wearing bikinis for their annual summer song.
The MV, the cover and some photos have been unveiled.
The video is an hommage to their 2nd single Max! Otome Gokoro released in 2011. The members of Super Girls are playing various games such as limbo, smashing balloons, eating watermelon as fast as possible… The shooting took place in a training camp.
It is the tie-up song for Koi Mizugi (恋・水着) commercial promoting swimsuits from Ito Yokado (イトーヨーカドー)
The limited edition comes with a bonus Blu-ray featuring the music video and its making-of.
Super☆Girls celebrated the 5th anniversary of the idol group in June.
Tracklist
Regular Edition

CD

Icchatte Yacchatte (イッチャって♪ ヤッチャって♪)
Mune Kyun Love Song (胸キュンLove Song)
Icchatte Yacchatte (Instrumental)
Mune Kyun Love Song (Instrumental)
Limited Edition

CD

Icchatte Yacchatte (イッチャって♪ ヤッチャって♪)
Mune Kyun Love Song (胸キュンLove Song)

Blu-ray

Icchatte Yacchatte (Music Video)
Making-of
Music Video (PV)