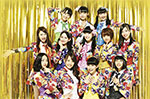 Super☆Girls Live 2014 ~Chouzetsu Kakumei~ at Pacifico Yokohama Kokuritsu Dai Hall (Super☆Girls Live 2014 ~超絶革命~ at パシフィコ横浜国立大ホール) will be released on DVD and Blu-ray on June 18.
The live performance was held on February 23, 2014.
Super☆Girls performed 26 songs during this concert.
The DVD and the Blu-ray editions include bonus footage.
Furthermore, Super☆Girls' 10th single Hanamichi!! Ambitious (花道!!ア~ンビシャス) is on sale since May 14.
Setlist
Welcome to ♥︎ S☆G Show!!(Ⅰ〜Ⅲ Remix)
Dream Seeker
Zettai Jibun Zenshin Sengen! (絶対自分前進宣言!)
Ganbatte Seishun (がんばって 青春)
Rave Together!!!
Renai Manifest (恋愛マニフェスト)
Tokonatsu High Touch (常夏ハイタッチ)
Akai Jounetsu (赤い情熱)
Believer
EveryBody Jump!!
Puri Puri Summer Kiss (プリプリ♥︎Summerキッス)
Yakusoku no Hanataba (約束の花束)
Kizuna Days (絆デイズ)
Hatsukoi Graffiti (初恋グラフィティ)
Yuuyake Sora ni, Mata Ashita (夕焼け空に、また明日。)
Joshiryoku Paradise (女子力←パラダイス)
Max! Otomegokoro (MAX!乙女心)
Kira Pure Power! (キラ・ピュア・Power!)
Yume no Inryoku (夢の引力)
Renai Rule (恋愛ルール)
Nijiiro Star (Nijiiroスター☆)
Miracle ga Tomannai! (みらくるが止まンないっ!)
Sorairo no Kiseki (空色のキセキ)
Be with you
– Encore –
Hanamichi!! Ambitious (花道!!ア~ンビシャス)
Miracle ga Tomannai! (みらくるが止まンないっ!)