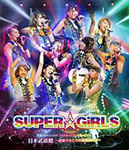 Super☆Girls Seitan 3 Shuunen Kinen Sp Idol Street Carnival Nippon Budoukan ~Chouzetsu Shoujotachi no Chousen 2013~ (Super☆Girls 生誕3周年記念SP アイドルストリートカーニバル 日本武道館~超絶少女たちの挑戦2013~) will be released on DVD and Blu-ray on November 6.
The concert was held on June 11, 2013 at Nippon Budokan in Tokyo. It celebrated the 3rd anniversary of Super☆Girls.
In addition to Super☆Girls, Cheeky Parade participated in the live performance.
Furthermore, Super☆Girls, Cheeky Parade, GEM, and Street-sei will hold Idol Street Expo 2013 on October 14 at Nippon Seinenkan.
Setlist
Welcome to S☆G Show!!
Akai Jounetsu (赤い情熱)
Paradise (女子力←パラダイス)
Zettai Jibun Zenshin Sengen (絶対自分前進宣言)
Renai Manifest (恋愛マニフェスト)
Nijiiro Star (Nijiiroスター☆)
Happy Go Lucky!〜ハピ☆ラキでゴー!〜
My Dream
Exit
Egao ga Porori (笑顔がぽろり)
Shelter シェルターなんかいらない
Muchuu Material (夢中マテリアル)
Girl's Party -My Friend Jenny-
Hoshikuzu Love Song (星屑ラブソング)
1,000,000 Smile (1,000,000☆スマイル)
Renai Rule (恋愛ルール)
Kizuna Days (絆デイズ)
Dear Mirai no Chizu (Dear~未来の地図~)
Nijiiro Namida… (Nijiiro涙。。。)
Yakusoku no Hanataba (約束の花束)
Bunbun Nine9′ / Cheeky Fighter (チィキィファイター) / C.P.U !? (Cheeky Parade Medley)
Mugen Dai Shoujo ∀ (無限大少女∀) (Cheeky Parade)
Cheeky Dreamer (Cheeky Parade)
Dream Seeker
Rave Together!!!
Kira Pure Power! (キラ・ピュア・Power!)
Yume no Inryoku (夢の引力)
Pan-Paka-Pan!
Ganbatte Seishun (がんばって 青春)
Believer
EveryBody Jump!!
Tokunatsu High Touch (常夏ハイタッチ)
Puri Puri Summer Kiss (プリプリ Summerキッス)
Max! Otomegokoro (Max! 乙女心)
– Encore –
Celebration
Miracle ga Tomannai! (みらくるが止まンないっ!)
Be With You
Video Trailer