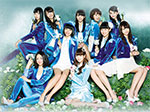 Super☆Girls' new single Sorairo no Kiseki (空色のキセキ) will be released on February 12.
This is the 9th single from Super☆Girls. 2 versions are available.
As the leader Yasaka Saori is going to graduate from the idol group, the title song Sorairo no Kiseki (空色のキセキ) is a ballad on the theme of "graduation".
The MV has been released.
The coupling track Catch the Dream is used for the campaign Anata no "Super" ga Aru (あなたの"Super"がある。) by BS21.
Moreover, Super☆Girls Live 2014 ~Chouzetsu Kakumei~ (~超絶革命~) will be held on February 23 at Pacifico Yokohama.
Yasaka Saori's graduation ceremony will take place during this concert.
The CD contains 2 songs. The limited edition includes a bonus disc with the MV and its making-of. It comes with a ticket for a handshake event.
Tracklist
Regular Edition

CD

Sorairo no Kiseki (空色のキセキ)
Catch the Dream
Sorairo no Kiseki (空色のキセキ) (Instrumental)
Catch the Dream (Instrumental)
Limited Edition

CD

Sorairo no Kiseki (空色のキセキ)
Catch the Dream
DVD

Sorairo no Kiseki (空色のキセキ) (Music Video)
Sorairo no Kiseki (空色のキセキ) (Making-of)
Music Video (PV)