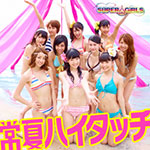 Super☆Girls' 7th single Tokonatsu High Touch (常夏ハイタッチ) will be released on June 12.
The coupling song g is performed by iDOL Street All Members (Super☆Girls, Cheeky Parade, GEM, and Idol Street Street-sei). It is the opening theme song for the anime series Hanakappa (はなかっぱ) broadcast on NHK E-Tele.
The limited editions come with a bonus DVD featuring a music video and making-of footage. The DVD content is different for each edition.
Regular Edition
CD

Tokonatsu High Touch (常夏ハイタッチ)
Pan-Paka-Pan! (Song by iDOL Street All Members)
Tokonatsu High Touch (常夏ハイタッチ) (Instrumental)
Pan-Paka-Pan! (Instrumental)
Limited Editions Type A and B
CD

Tokonatsu High Touch (常夏ハイタッチ)
Pan-Paka-Pan! (Song by iDOL Street All Members)
DVD (Type A)

Tokonatsu High Touch (常夏ハイタッチ) (Music Video)
Tokonatsu High Touch (常夏ハイタッチ) (Making of)
DVD (Type B)

Pan-Paka-Pan! (Music Video)
Pan-Paka-Pan! (Making-of)
Music Video