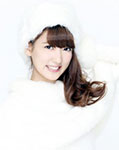 Super☆Girls announced the graduation of Yasaka Saori and the recruitment of 2 new members Asakawa Nana and Uchimura Risa.
Yasaka Saori is the leader of Super☆Girls. She will leave the idol group on February 23 during Super☆Girls Live 2014 ~Chouzetsu Kakumei~ (~超絶革命~) which will be held at Pacifico Yokohama.
In addition, 2 new members, Asakawa Nana and Uchimura Risa, are going to join Super☆Girls on the same day. They are currently part of iDOL Street Street-sei.
Yasaka Saori is a member of Super☆Girls since the creation of the unit in 2010.
Furthermore, Super☆Girls' 9th single Sorairo no Kiseki (空色のキセキ) will be released on February 12.
The announcements were made at iDOL Street Carnival 2013 Winter X'mas Special on December 22 at Tokyo Dome City Hall.