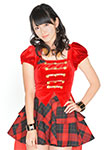 Suzuki Airi Photobook 2010-2013 "Sotsugyou" (鈴木愛理 全集2010-2013 『 卒業 』) will be released on March 31.
The book contains photos from Suzuki Airi's previous photobooks Toukoubi (登校日), Meguru Haru (巡る春), and Kono Kaze ga Suki (この風が好き). It also includes unreleased pictures and new ones taken in Hokkaido and Tokyo. It has 200 pages.
The photobook comes with a bonus DVD featuring making-of footage.