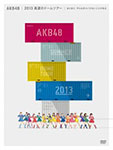 AKB48 2013 Manatsu no Dome Tour ~Madamada, Yaranakya Ikenai Koto ga Aru~ (AKB48・2013真夏のドームツアー ~まだまだ、やらなきゃいけないことがある~) will be released on DVD and Blu-ray on December 18.
The Special Box contains 10 discs featuring 3 concerts and bonus footage including the graduation ceremonies of Shinoda Mariko, Akimoto Sayaka and Itano Tomomi. It comes with a 132-page booklet and 5 photos.
The Single Selection includes 2 discs with the live performances of the songs from AKB48's singles. It contains a photo randomly selected.
AKB48, SKE48, NMB48, and HKT48 participated in the live event.