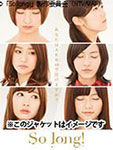 So Long! drama starring AKB48 will be released on DVD and Blu-ray on June 28.
The DVD and the Blu-ray box sets include the 3 episodes of the drama. They also contain a bonus disc featuring making-of, promotional spots, and more.
The regular edition comes with a 12-page booklet and a poster.
The limited editions have a special package featuring members from Team A (Shinoda Mariko, Watanabe Mayu), Team K (Oshima Yuko, Matsui Jurina), or Team B (Kojima Haruna, Shimazaki Haruka). They include a 48-page booklet, 4 posters, and a replica of the script of one of the 3 stories.