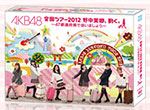 AKB48 Zenkoku Tour 2012 Nonaka Misato Ugoku ~47 Todoufuken de Aimashou~ (AKB48全国ツアー2012 野中美郷、動く。~47都道府県で会いましょう~) will released on DVD on March 16.
The special DVD box includes the concerts of Team A in Fukuoka, Team K in Tochigi, Team B in Osaka, and Team 4 in Ibaraki.
It also comes with a bonus disc featuring making-of footage, 5 photos randomly selected, and a 8-page booklet.
Check out the setlist for each live performance.