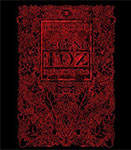 Babymetal Live ~Legend I, D, Z Apocalypse~ will be released on Blu-ray on November 20.
The Blu-ray includes the 3 concerts of Babymetal Legend "I" held in October 2012 at Shibuya O-East, Legend "D" in December 2012 at Akasaka Blitz, and Legend "Z" on February 2013 at Zepp Tokyo.
It also includes the original movie story Kitsune-sama no Mokujiroku (キツネ様の黙示録).
It comes with a booklet featuring photos of the live performances.
Check out the trailer. (more…)