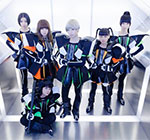 BiS will release their new single STUPiG on January 22.
STUPiG is described as a "digital hardcore" tune. It is produced by Ueda Takeshi (AA=).
The coupling track Odd Future is a rock song. It is produced by Matsukuma Kenta (Scrambles).
The music video for STUPiG has been revealed. The members of BiS wear strange costumes in a cyberpunk universe.
The MV for Odd Future has been released. There are 6 versions, whether one for each member of the idol group (Pour Lui, Hirano Nozomi, First Summer Uika, Tentenko, Kamiya Saki, Koshoji Megumi).