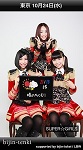 Super☆Girls and Cheeky Parade are going to be featured in Bijin Tenki (美人天気).
Bijin Tenki is an iPhone / Android application in which pretty Japanese girls give weather forecast in Japan.
The campaign with Super☆Girls and Cheeky Parade is temporary and will start on October 24. It will last throughout the fall.
Other idol groups like Morning Musume, Berryz Kōbō, °C-ute, S/mileage, or Vanilla Beans have been previously featured in the app.