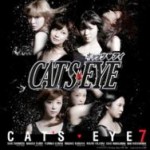 The theme song for the stage play Gekidan Gekiharo Dai 12 Kai Kouen ~Cat's Eye~ starring Berryz Kōbō and °C-ute will be released on November 7.
The song is performed by Cat's Eye 7 (キャッツ アイ セブン), a unit consisting of members from Berryz Kōbō (Kumai Yurina, Shimizu Saki, Maasa Sudo, Sugaya Risako) and °C-ute (Yajima Maimi, Nakajima Saki, Hagiwara Mai).
The single includes a DVD featuring music video, making-of footage and press conference digest.
The stage play Cat's Eye was held in September and October.