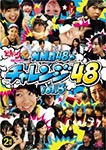 The volumes 3 and 4 of Docking 48 presents NMB48 no Challenge 48 (『どっキング48』 presents NMB48のチャレンジ48) will be released on DVD on November 5.
Challenge 48 (チャレンジ48) is a popular segment of the TV program Docking 48 (どっキング48) broadcast on Kansai TV (関西テレビ).
As the name suggests, the members of NMB48 have to do various challenges in this show.
Each DVD includes 2 discs featuring between 6 and 13 episodes (see the list below) and bonus footage.