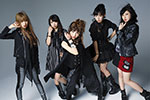 Q'ulle's 1st album Q' & A ~Q'ulle & Answer~ will be released on June 24.
This album contains 12 tracks including the idol group's latest singles mic check one two, Monster, Heartbeat, and 2 new songs Deep Drive and Reason.
Q'ulle consists of former Danceroid members Ikura, Yuzuki, Maam, Manako and Yakko.
Check out the music videos.