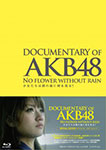 Documentary of AKB48 No Flower without Rain ~Shoujotachi wa Namida no Nochi ni Nani wo Miru?~ (少女たちは涙の後に何を見る?) will be released on DVD and Blu-ray on April 26.
The special edition includes interviews and a bonus disc.
The complete box contains 3 extra discs including a long version of Documentary of AKB48 AKB48+1+10 aired on NHK on February 1. It also comes with a 76-page photo booklet and 5 photos.
This is the 3rd episode of the Documentary of AKB48 series. It was directed by Takahashi Eiki who was also the director of the previous episode. It has been released on February 1 in Japanese theaters.
The film is following the major events experienced by AKB48 during the year 2012, including Maeda Atsuko's graduation and the concert in Tokyo Dome.