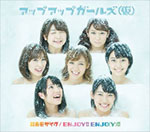 Up Up Girls (Kari) will release their new single Nijiiro Mosaic (虹色モザイク) / Enjoy!! Enjo(y)!! on December 25.
It is a double A-side single. Only one edition is available.
Nijiiro Mosaic was written and composed by PandaBoY.
The lyrics of Enjoy!! Enjo(y)!! were written by Nobe. The music was composed by Michitomo.