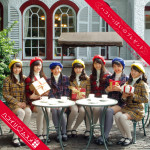 The new single of Hakoiri Musume Hako Ippai no Present (ハコいっぱいのプレゼント) will be released on November 22.
This will be the first disc of the idol group with a distribution nationwide. It will be released under the new label Penguin Disc, a new sub-label created by Tower Records Japan.
Hako Ippai no Present is mainly a friendship song and also gives a foretaste of Christmas' spirit.
In the MV, the girls cannot tell their feelings to people they love; they put them into the present for their beloved.