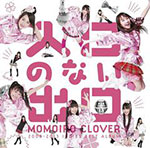 Momoiro Clover's new album Iriguchi no Nai Deguchi (入口のない出口) will be released on June 5.
This best-of album celebrates Momoclo's 5th anniversary. It includes some songs released on their indies era. It also contains new versions of Rough Style (ラフスタイル) and Ano Sora e Mukatte (あの空へ向かって).
The limited ediitions come with either a DVD or a Blu-ray featuring 2 music videos.