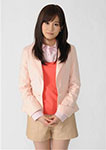 Maeda Atsuko is going to appear in the drama Kasuka na Kanojo (幽かな彼女).
Former AKB48 member Maeda Atsuko will play the role of Kawai Chiho, an assistant teacher.
Kasuka na Kanojo will start airing on Fuji TV in April. SMAP's Katori Shingo and Anne will be starring in the drama.