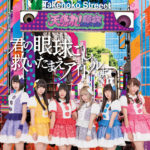 The new single from Appare! Harajuku will be released on September 20.
It will be entitled Kimi no Gankyugoshi Sukuitamae Idol yo (君の眼球越し救いたまえアイドルよ).
This is the 1st major label single by the idol group Appare! Harajuku.
This music video, which was directed by filmmaker Raita Kuramoto, shows the members of Appare! Harajuku running along the seashore in muted tones on a cloudy day.