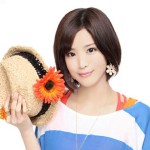 Kitahara Sayaka (北原沙弥香) birthday is today and may all of her birthday wishes come true.
Kitahara Sayaka is a Japanese pop singer / soloist and idol signed to Avex. She joined Hello! Project in 2004 as a member of Hello Pro Egg (2004-2011) and was the tallest member of the unit.
Kitahara Sayaka was a member of Hello! Project trio Milky Way (2008-2009) along with Kusumi Koharu and Kikkawa You. It was created for the anime Kirarin Revolution. They sold 7,000 copies in Japan, the best selling single was Natsuga Yattekuru (2,191 copies) and the least sold was Kanari Junjou (1,130 copies).