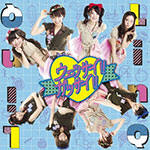 LinQ's new single Wessai!! Gassai!! (ウェッサイ!!ガッサイ!!) was released on September 24th.
This is the 5th single from LinQ. It is produced by Fukushima Maiko who usually works for Dempagumi.inc.
The MV has been unveiled. It was made in collaboration between Yumemi Nemu (Dempagumi.inc) and video director Smith as SmithNemu (スミネム).