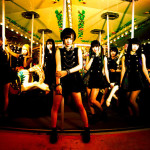 Maplez will release their new single Authentic Invention to Romantic Paranoid (オーセンティックインベンションとロマンティックパラノイド) on November 29.
This is the 7th single from Maplez, and their first one since the idol group changed its name. They were previously known as Hiroshima Maple★S.
The title song expresses the thought of a girl who is delusive with a melancholy feeling.
The MV was inspired by 1980s popular song programs and by dramas.