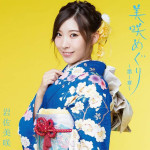 Iwasa Misaki unveiled her new album Misaki Meguri ~Dai 1 Shou~ (美咲めぐり~第1章~).
This is the first studio album of the ex-member of the AKB48. It will be released on November 30th.
It marks the beginning of Iwasa Misaki as enka singer.
It will contain new songs as well as the first singles of Iwasa Misaki released since 2012, such as : Mujin Eki, Moshimo Watashi ga Sora ni Sundeitara, Tomo no Ura Bojou, Hatsuzake and Gomen ne Tokyo.