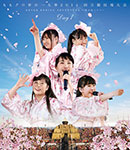 Momoclo Haru no Ichidaiji 2014 Kokuritsu Kyougijou Taikai ~ Never Ending Adventure Yume no Mukou e ~ (ももクロ春の一大事2014 国立競技場大会~Never Ending Adventure 夢の向こうへ~) will be released on DVD and Blu-ray on October 8th.
Momoiro Clover Z concert was held on March 15-16, 2014 at the National Stadium, Tokyo. The 2 live performances are available on a box set or on individual DVD and Blu-ray.
5 trailers have been released.