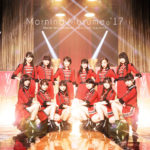 The single Brand New Morning / Jealousy Jealousy (BRAND NEW MORNING / ジェラシー ジェラシー) of Morning Musume '17 will be released on March 8.
This is the 63rd single from the idol group of Hello! Project.
The 13th generation members, Kaga Kaede and Yokoyama Reina, make their first appearance on this single. However, when the single recording, Masaki Sato was absent for medical reasons but participated in recording of B-side songs only (from special edition) ; she doesn't appear on most single covers.