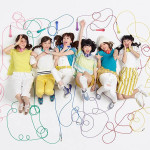 Little Glee Monster's 5th single My Best Friend will be released on May 11th.
My Best Friend is used in a commercial for Round 1 Stadium amusement and sports park located at Zepp DiverCity Tokyo. The members of Little Glee Monster have also participated in this campaign.
The theme is friendship between girls.