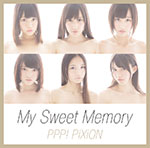 PPP! PiXiON's new single My Sweet Memory was released on December 18.
This is the 4th single from PPP! PiXiON. Only one edition is available. It was released on the same day as the live performance held for the 1st anniversary of the idol group.
The CD includes 2 songs and their instrumental versions.