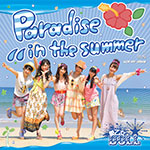 Lovely Doll (愛乙女★Doll) will release their 3rd single Paradise in the Summer on June 18.
The single contains 5 songs, including a remix of their 1st single Go!! My Wish!! by Kujira and the instrumental versions.
Only one edition is available.
The lyrics were written by former LinQ's producer H (Eichi). The music was composed by Shinya Yutaka.