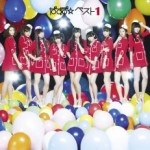 Passpo☆ will be releasing the 2 volumes of their best-of album Passpo☆ Best 1 (ぱすぽ☆ベスト1) and Passpo☆ Best 2 (ぱすぽ☆ベスト2) on March 27.
Both volumes contain the greatest hits of Passpo☆ for a total of 29 songs. The first volume includes many of their indies and major singles.
Moreover, Passpo☆'s new single Sakura Komachi (サクラ小町) will be released on February 13.