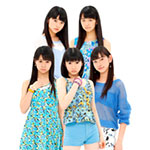 Juice=Juice will release their major label debut single Romance No Tochuu / Watashi ga Iu Mae Ni Dakishimenakyane / Samidare Bijo ga Samidareru (ロマンスの途中 / 私が言う前に抱きしめなきゃね / 五月雨美女がさ乱れる) on September 11.
It is a triple A-side single. The CD contains a "memorial edit" version of Juice=Juice's latest releases.
6 editions are available.
The limited editions include a DVD featuring the music video and bonus footage. The detailed content hasn't been revealed yet.