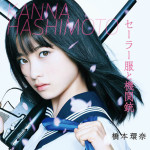 Hashimoto Kanna (Rev. from DVL) is going to make her solo debut with the single Sailor Fuku to Kikanjuu (セーラー服と機関銃) on sale on February 23rd.
It is a cover of the 1983 hit song byYakushimaru Hiroko.
It is also theme song for the movie Sailor Suit and Machine Gun – Graduation in which Hashimoto Kanna is starring. The film will be released in theaters on March 5th in Japan.