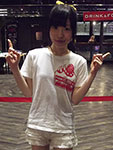 Machikado Keiki Japan (街角景気☆Japan↑) is an idol group formed in 2013. They are a part of Alice Project (アリスプロジェクト).
The unit has an original concept : the length of the skirts of the members is determined by the evolution of the Nikkei stock average.
Check out out interview with Sakura Yuki (桜雪) from Machikado Keiki Japan.