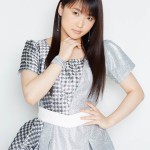 Sayashi Riho announced her graduation from Morning Musume '15.
She will leave the idol group on December 31 after a last live performance at Hello!Project Countdown Party 2015 ~ Good Bye & Hello ! ~ at Nakano Sun Plaza.
Sayashi Riho posted an article on the 9th generation members' blog. She explained that she wants to study abroad in order to learn English and dance.