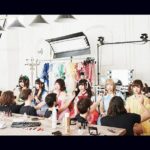 The new album of Band Ja Naimon! was released on March 8.
It is entitled Kanpeki Shugi no Sekai ni Fukanzen na Ongaku wo♡ (完ペキ主義なセカイにふかんぜんな音楽を♡).
This is the 2nd album of Band ja Naimon! but its is also their 1st major album.
The MV for Seishun Karada Da Dash! was unveiled.