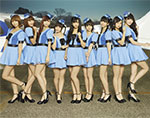 Passpo☆ will release Shibuya Kokaido Flight DVD ~Sayonara ぱすぽ☆ Konnichiwa Passpo☆ (渋谷公会堂フライトDVD ・さようなら ぱすぽ☆ こんにちは Passpo☆・) on May 22.
The DVD includes the 27 songs performed at the live. The group announced that they changed their name from ぱすぽ☆ to Passpo☆ during this event.
The concert was held on December 28, 2012, at Shibuya Public Hall, Tokyo.