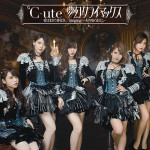 The 30th single of °C-ute entitled Mugen Climax / Ai wa Maru de Seidenki / Singing ~Ano Koro no You ni~ (夢幻クライマックス/愛はまるで静電気/Singing〜あの頃のように〜) will be released on November 2.
The 3 music videos were unveiled.
In the MV, C-ute goes back in time in the seventeenth century and dancing in a luxurious European-style room with glittering chandeliers that shine all around them ; the membres appear in military uniforms highlighted with epaulets and corsets. Some of you might recognize samples of Ludwig van Beethoven's piano sonata No 14- presto agitato (also known as Moonlight Sonata) mixed in with J-pop and electronic dance beats.