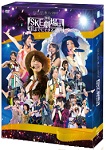 SKE48 Haru Con 2012 ~Senyou Gekijou wa Aki Made ni Dekiru no ka?~ (SKE48 春コン2012「SKE専用劇場は秋までにできるのか?」) DVD box set will be released on October 13.
The DVD box set includes the 2 live performances held on April 14 – 15 at Nippon Gaishi Hall in Nagoya. The setlist of each concert features 40 songs.
Former SKE48 members Ono Erika, Mano Haruka and Yamada Erika had their graduation ceremony during this concert.