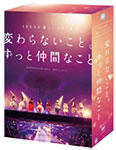 SKE48 Haru Con 2013 ~Kawaranai Koto. Zutto Nakama na Koto~ (SKE48春坤  ~変わらないこと。ずっと仲間なこと~) will be released on DVD on July 27.
SKE48 held 3 live performances during this 2-day event. Each one of them is available separately on 2 discs.
A special box includes all the live performances and a bonus disc featuring making-of footage and a documentary on the graduation ceremony of 9 members. It also comes with a 120-page photobook and 5 pictures.
The spring concert SKE48 Haru Con 2013 was held on April 13-14, 2013 at Nippon Gaishi Hall in Nagoya.