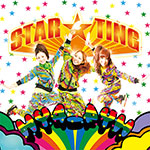 hy4_4yh will release their new mini-album Star☆Ting on January 29.
This album contains 7 tracks including dance music and rock songs. The theme is Yavay Dance Music.
The album was written and arranged by Hosoe Shinji, DJ Jet Baron and Takano Mandokoro (Leopaldon).
In addition, the new digital single of hy4_4yh hi-Tunes ~ Yavay Party Anthem is available on iTunes and Recochoku since November 20.