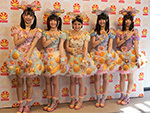 The World Standard participated in Japan Expo 2017 in Paris Nord Villepinte, France, last summer. Along with other medias, we had the opportunity to meet the members of the idol group.
Their sound producer and composer, Suzuki Manaka, was also present to answer questions about music.
Check out this long interview with Wa-Suta.