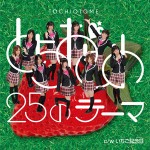 Tochiotome25's debut single Tochiotome25 no Theme (とちおとめ25のテーマ) will be released on August 29.
The single has 3 editions with different B-side tracks : Ichigo Kinenbi (Type "To"), Ano Sora wo Koete (Type "Chi") and KyunKyun Love (Type "Gi").
Tochiotome25 is an idol group from Tochigi prefecture. They took part in Tokyo Idol Festival 2012.